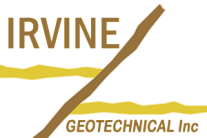 CONSULTING ENGINEERS & ENGINEERING GEOLOGISTS
About Our Company
Irvine Geotechnical, Inc. is California licensed and Incorporated company that specializes in engineering geology and in geotechnical engineering consulting services. Jon A Irvine is the President and principal geotechnical engineer/engineering geologist. Mr. Irvine has more than 33 years of professional experience in southern California and is a California licensed Geotechnical Engineer, Professional Geologist and Certified Engineering Geologist. The geologist's expertise includes evaluating seismic hazards and identifying earth materials. The geotechnical engineer is an expert in quantifying the engineering characteristics of earth materials as well as evaluating the interaction between the earth and engineered structures. Jon Irvine's training, experience and licensing envelopes both disciplines. In addition to Mr. Irvine, Irvine Geotechnical employs an experienced and knowledgeable staff of geologists, engineers, deputy grading inspectors and technicians.
Irvine Geotechnical focuses primarily on the design and construction of new buildings and engineered projects. Other areas of our work-focus include expert witness testimony, forensic engineering studies, due-diligence evaluations of real property, and feasibility studies. Projects completed or studied by the firm include: high-rise buildings; mid and low-rise commercial buildings and residential structures; residential subdivisions; landslide repairs and slope stabilization; and forensic analyses of failed slopes and structures. Irvine Geotechnical has developed proprietary software for analyzing earth pressures, quantifying liquefaction and evaluating stability of slopes and excavations. Jon A. Irvine is an expert in geotechnical subjects involving liquefaction, stability of slopes and excavations, seismicity and foundation design. In addition to providing geotechnical recommendations and advice for preparation of sites and for design of structures, our field engineers, geologists and technicians verify site conditions during construction and perform quality control observations and testing.
Our clients include local cities, schools, homeowners, architects, engineers and developers. Most of our work is by repeat business or direct referral from existing clients and colleagues. We strive to provide accurate, thorough and value-engineered advice and recommendations that result in safe and cost-effective projects. We have the appropriate licenses and insurance coverages to qualify to work on governmental and commercial projects.